"Western UP Voted one of the Country's Top 10 Best Places to Snowmobile"
AJ's Walleye Lodge in the North Shore of Lake Gogebic in Bergland has two major trump cards when it comes to snowmobiling: the first would be access to seven major trails within three miles – no need to ride the same trail every day to get to the good snow and trails; the second is this is where the good snow is found.  Lake Superior provides the moisture, while the Porcupine Mountains provide the lift to the moist air and down comes the pretty white snow on our roof.  If that's not enough to win you over, how about newly renovated units with new beds, linens and a view of the lake.  From standard rooms, to kitchenettes, to fireplace suites, to two bedroom units, we have a wonderful mixed bag that will meet (and exceed) most needs. We rent all units by the day, week or month.
In addition to our convenient location right, we also have plenty of safe and convenient trailer parking, 2 rental/repair shops located within 1 mile from the property, a gas station, and three restaurants within 1-2 miles from the property.  Trail permits are available on site in addition to a live bait and tackle shop if you choose to do any ice fishing, and a gift shop in the event you have left anything behind!
Call us for update trail conditions at 906-575-3557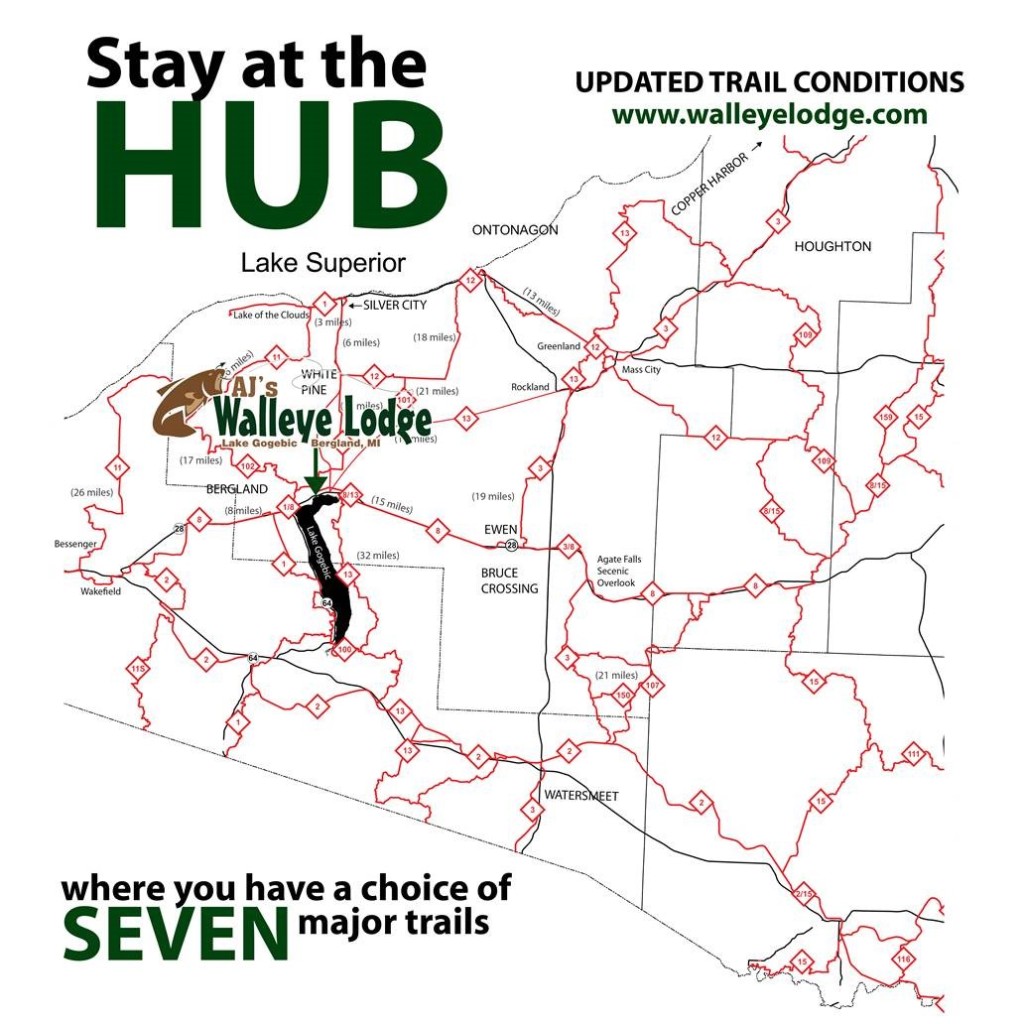 Snowmobile rides in lake gogebic
AJ's Walleye Lodge is centrally located so it can be used as a hub for your snowmobile activity whether you are looking for family fun, a weekend getaway or overnighters. The lodge offers is 3 miles from 7 major trails which include winding forest trails, scenic overlooks, railroad grades, bridges, hills, lakes, cedar swamps, and logging roads – all in a days ride.
There are many loops in the Lake Gogebic area waiting to be explored and enjoyed by all. Most snowmobilers enjoy their loop de jour (loop of the day), which may range from just a few miles, such as riding the perimeter of Lake Gogebic to a loop of several hundred miles.
One of the most popular rides on a sunny winter day is what is known as the "LAKE DA LAKE".   (Lake Gogebic to the Lake of the Clouds).   Leaving Lake Gogebic, follow Trail 1 north toward White Pine to Silver City.    In White Pine you will find the Konteka which is a good place to stop off and get a bite to eat, fill up for gas and catch up with other riders.   Continuing on Trail 1, follow it North to Silver City then west to the Porcupine Mountains and Lake of the Clouds for an absolutely amazing view.   Be sure to bring a camera with you as the views of both Lake of the Clouds and Lake Superior are astounding!    You can head back to Lake Gogebic the same way, or on the way back down from Lake of the Clouds, you can pick up Trail 11 south and follow that to Trail 8 into Wakefield.    From there, head west on Trail 2 to Marenisco, and then North on Trail 1 back to Lake Gogebic.  The whole ride is a little over one hundred miles if you do the whole loop.   
Of course you can't visit Lake Gogebic without riding the "LAKE GOGEBIC LOOP".   Circling the lake on trail 1, 100, 13 and 8 will take you on a ride which about 72 picturesque miles.   This is a good family ride as it is not real challenging and there most likely will be wildlife or at least plenty of tracks.   There are several good restaurants to stop at along the way, to have a meal, meet up with other riders, or grab a cup of hot cocoa.    If anyone tires you can check in at the ever famous sledding pit stop – The Hoop  – where you'll find plenty of other riders who will gladly share information on trail and lake conditions.   If conditions permit, you can use the lake as a faster return back to your lodge.    
One favorite destination for both the diehard rider as well as the seasoned novice is the  "COPPER HARBOR CRUISE", and you can make it either a day trip or an overnighter.    From Lake Gogebic, take Trail 1 or 13 and head north on Trail 13 out of Bergland to Rockland and Greenland.     There you can pick up Trail 3, which is the Bill Nichols Trail and an extremely popular trail for riders as it is very scenic and where you will also see the famous Firesteel Trestles.  These former railroad trestles soar 100's of feet over deep gorges.    Continuing on into Houghton, take trail 3 to Trail 132 and into Copper Harbor where you will find lodging, restaurants and more.
The "FENCE HOPPER":  this day trip takes you from Lake Gogebic into Wisconsin and back with an option to stop at the Lax Vieux Desert Casino in Watersmeet and view Bond Falls in Paulding.   From Lake Gogebic take Trail 1 or 13 south to Trail 2 East to Watersmeet. Go south on Trail 3 to Land'O Lakes and then head west on Trail 6 (Wisconsin) and follow signs to Bents Camp for lunch.  On your return head back out to Trail 6, which turns into Trail 15  and go west to Presque Isle where you will find the ever popular  P.I. Pub.   Go north on Trail 1 back to Michigan and follow Trail 1 on the West Shore of Lake Gogebic.
Another option for this ride would bet to head back on Trail 3, take Trail 2 West out of Watersmeet and then follow Trail 3 north to Bond Falls in Paulding where you are sure you gain a spectacular view of this magnificently frozen falls.  From there you can continue north to Agate Falls, and then head East on 8 back to Lake Gogebic.   When you get back to Lake Gogebic, you can grab a beef sandwich at the Bergland Bay Bar, or a delicious rack of smoked ribs at J'Ws on the East end of Bergland.
These are just some suggestions but the possibilities are endless.   The Lake Gogebic Area has published their own trail bandanna which is available at many local establishments.  This bandana feature all trails, local restaurants, gas stations and websites for trail conditions.    A portion of the proceeds from the sale of these bandannas go to the Gogebic Area Groomers who work hard to make sure that we have some of the best maintained trails in the country!   At our lodge, we ask that our guests check in with us and let us know where they are heading out to and we always recommend that you do a safety check, that you have a full tank of gas, and that you have a cell phone (although service is not always available), a map, and even a GPS.    Here in the heart of BIG SNOW COUNTRY, we want to make sure that our riders have a safe and fun experience.     You can find information on Lake Gogebic Area trail conditions reported daily at www.walleyelodge.com or on www.snowtracks.com.     This winter we invite you, your family and friends to come and experience the Lake Gogebic Area and create some memories that will last a lifetime!   We look forward to seeing you soon and sharing our beautiful region with you.  
Be sure and ask Jim about his recommendations for snowmobile trips as he's been riding this area for about 30 years!
Keweenaw snowmobile trails
Here's the latest report from the DNR on the trails that are closed. The "Frieda loop" trails 120 and 121 are closed all year. Right now 120 is under heavy logging. Trail 3 going north is open from the bridge to just west of 1st street in Dollar Bay. Then it starts back up at M26 to the north. So if your going north of the bridge you will need to take trail 17 through Hancock.