Lake Gogebic is the largest inland lake in the Upper Peninsula of Michigan.  The north half of the lake is in Ontonagon County, Bergland Township, and the Eastern Time zone. The south half of the lake is in Gogebic County, Marenisco Township, and the Central Time zone.  In 13,380 acres of prime fishing water, there are walleye, smallmouth bass, northern pike, jumbo perch and some whitefish.
This region is also a prime hunting hot spot for deer, bear, small game and birds.
 Gogebic's summer water sports, camping, sightseeing and hiking the surrounding timberland. Winter is a "world of its own" with an annual snowfall of nearly 300 inches. Lake Gogebic is situated within a vast snowmobile trail system extending throughout the Upper Peninsula. Cross country ski trails are abundant and five major downhill ski facilities are less than a hour's drive. It is a great place to use snowshoes.
Lake Gogebic is over 13,000 acres of pristine water, with 36 miles of shoreline. This area is a four-season gem – still undiscovered by many. Nestled within the Ottawa National Forest, Lake Gogebic is the Upper Peninsula of Michigan's largest inland lake located in the far western end of the Upper Peninsula. Lake Gogebic itself is in two counties and in two time zones. The north half of Lake Gogebic is in Ontonagon County, Bergland Township, and the Eastern Time zone. The south half of the lake is in Gogebic County, Marenisco Township, and the Central Time zone.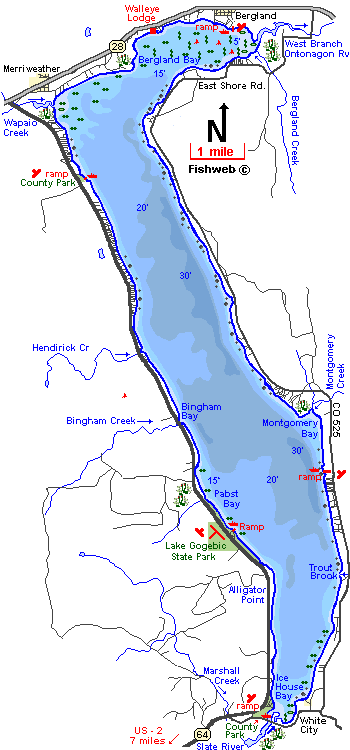 The Western Upper Peninsula is known for its natural wonders and plentiful locations in which a sightseer can absorb all the magnificence that is The Wilds of Michigan. If you ask the locals, the destinations below are among the most popular and engaging that can be found in the Wilds, with each offering a different experience and scene that you won't soon forget.
Lake Gogebic is the largest natural lake in Michigan's Upper Peninsula. Roughly 14 miles long, north to south, and 2½ miles wide, the lake spans two time zones and covers parts of Gogebic and Ontonagon counties. Yet, it lies entirely within the 1-million-acre Ottawa National Forest.
Uniquely shaped like an inverted boot, Gogebic features rock/cobble/gravel shorelines that quickly transition into vast fields of mud and muck, along with weedy, fish-holding cover, especially at its north and south ends.
While the lake holds several gamefish species, including smallmouth bass and northern pike, walleyes and yellow perch are the most sought species, drawing anglers from far and wide to this remote and pristine body of water.
Team Northland member, tournament champion and Michigan resident Mark Martin has extensive experience on the lake and considers Gogebic among the most prolific walleye waters in the country—though the average size has historically been on the small side.
A modified minimum size limit (5-fish daily bag may include just 2 fish between 13 and 15 inches in length—the rest must measure over 15 inches) is beginning to change that reputation, however. "We're seeing more 15-plus-inch walleyes now than in recent years," says Martin.
Yellow perch, specifically jumbo perch, are protected as well. The 25-fish daily limit may include only 5 fish 12 or more inches long.
Like the fish in many lakes in the northern U.S. and Canada, Gogebic's fish populations rely heavily on insects and insect larvae as a food source. This may be one reason, Martin explains, that the lake's walleyes and perch tend to be tentative biters. "It can be frustrating," he says, "and it takes a while to get the feel of it, but once you do, you'll definitely catch fish."
Here, Martin breaks down his recommendations for fishing Lake Gogebic, season-by-season. Follow his suggestions until you become more familiar, then strike out on your own.
1. The great thing about Lake Gogebic is that there are few places on the lake an angler can't catch fish, according to Martin. That includes the seemingly featureless mid-lake abyss. Because gamefish like walleyes and yellow perch are so insect-oriented in their feeding behavior, mid-lake mud flats tend to hold fish nearly year around. But to catch fish from late fall through winter, key on transition zones where the bottom turns from hard to soft. Set up just into the soft side of the transition and don't expect to see fish on the sonar screen as they tend to blend in with the mud. Which is another way of saying you may have to move around a bit to find fish. For perch and walleyes, try vertically fishing an Impulse®Stone Fly or Mayfly on a 1/16- to 1/8-ounce RZ Jig. Or, Martin suggests, fish a 1/16-ounce Doodle Bug jig baited with live wrigglers or waxworms. If yellow perch are the primary target, try a Mitee Mouse Jig tipped with a Water Flea.
2. During the early open-water season the action moves to the shorelines. "Everything—walleyes, perch, smallmouth bass, northern pike, all species—concentrate on shoreline structure just about everywhere on the lake," says Martin, "which offers many opportunities to catch a lot of fish from the bank, and from docks." Rock dominate Gogebic's shoreline, so to locate the most active fish focus on wind-blown sections and start your search in 8 to 10 feet of water with an 1/8-ounce jig head-and-shiner, or 3-inch Impulse® Smelt Minnow. Trolling crankbaits or a shiner-baited Baitfish Spinner Rig is another surefire search technique. Switch to casting jigs once you locate fish.
3. When warmer weather and higher water temperatures take over, weeds begin to emerge. Martin says this is a good time to fish the north (boot) end of the lake with jigs or jig-and-float rigs. He also recommends trolling the hard-to-soft transition zones. Run a spinner rig-and-leech or a Baitfish Spinner Harness with a nightcrawler 10 to 15 feet below the surface along and over the transitions all around the lake. "The water is tannic stained, but clear enough for fish to see the spinner and come up to get it," he explains. Here again, fishing the wind-driven side of the lake is usually the best bet.
4. In the late-summer/early-fall period weedbeds once again become a focal point for all gamefish species. While good beds can be found along various shorelines, Martin tends to focus on Gogebic's south end, "which is full of weeds," he explains. A 1/16-ounce jig with a flashy attractor, such as a Mimic Minnow Spin or Thumper® Jig, is key to the presentation. Martin often simply attaches Rainbow Jig Spinners (size 3 or 4 blade) to whatever ballhead jigs he has handy and tips it with a Smelt Minnow or Impulse® Paddle Minnow. Cast and make a slow-to-medium swimming retrieve through the weeds, he says, and you're likely to catch perch, smallmouths, pike, as well as walleyes. "Wear polarized sunglasses so you can see the weeds, and fish that follow the lure," he says, "and pay special attention to any rock pile—large or small—you happen to find." He also recommends switching lures and lure colors often, especially after you've caught a couple of fish, as they tend to become conditioned to a bait fairly quickly. Takes will be subtle, so use a rod that allows you to feel or see a light bite, and string it with 6-pound braided line, which cuts through vegetation more easily if you get snagged.
Anglers specifically targeting yellow perch now, often use ice fishing rods with wire strike indicators to help them detect bites. Fish a Mayfly orBro's Slug Bug straight over the side of the boat from an anchored position. "If you drift, you'll catch fewer fish," he says.
Vital Stats
Lake Gogebic
Size: 13,380 acres
Max Depth: 38 feet
Mean Depth: 17.5 feet
Shoreline: 36 miles
Species Present: Walleye, Smallmouth Bass, Yellow Perch, Northern Pike, Lake Whitefish, Black Crappie, Pumpkinseed, Rock Bass, Brown Bullhead, White Sucker, and various chubs, shiners and minnows.