You might be an artist who would like to introduce yourself and your work here or maybe you're a business with a mission to describe.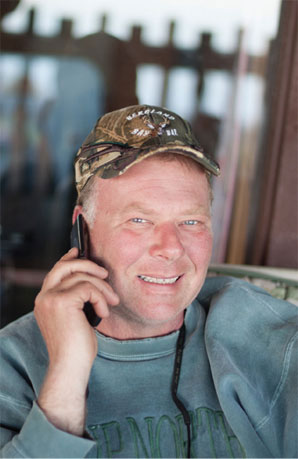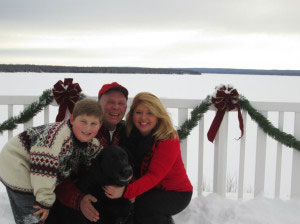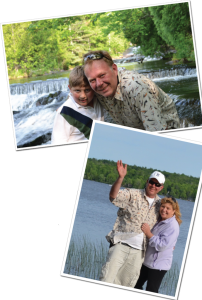 Welcome friends – new, old and friends whom we have not yet met!   AJ's is a family owned and operated resort that we purchased a little over 10 years ago and to which we have been working on since :).
We relocated to the Lake Gogebic area from Youngstown, New York in May of 2012.   Originally from Oak Park, Illinois Jim has spent several years as a Charter Fisherman on Lake Michigan where his Uncle Eddie still charters out of the Kenosha Harbor.   Since the age of 8 years old, he's worked in his family's heating, sheet metal and air conditioning business which has been on the same corner in Chicago for the past 50 years.   Additionally, Jim was the Chief Engineer for the Seneca Hotel and Casino in Niagara Falls, New York where he assisted with the development and opening of a 600 room hotel facility and go-generation plant!   All this experience has really come in handy as just about everything in the Lodge has either been rebuilt, renovated or replaced!
Mary Beth is also not a stranger to the hospitality industry as she has more than three decades of tourism, hospitality, marketing and human resource experience with some of the Nations largest hotel and gaming establishments   Mary Beth still consults with management teams and assists casino operations with strategic planning, marketing, human resources and guest service processes. 
Our son Anthony, graduated from high school in 2022 and loves living in the Upper Peninsula. Anthony loves snowmobiling, skiing, fishing and he wishes it would snow 11 months of the year! He Manages the business and is very involved with all aspects of the operation and can often be seen helping guests in the restaurant or out on the property. This is a family run operation and this family is very passionate about exceeding the expectations of our guests!
We just celebrated our 11th Anniversary at AJ's Lodge and Oven and we are very proud to say that we've opened our new restaurant on site which is a great new amenity for our Guests. The restaurant features a wood fired oven, a pre-prohibition bar and an amazing view of Lake Gogebic.
We invite you to come alone, or bring your family, friends, neighbors, or work colleagues with you (we strongly encourage reservations), and relax in the comfort of our lakefront setting and enjoy the year round splendor of Michigan's Upper Peninsula.
We look forward to seeing you soon!!
Jim, Mary Beth, Anthony, Buddy & Larry